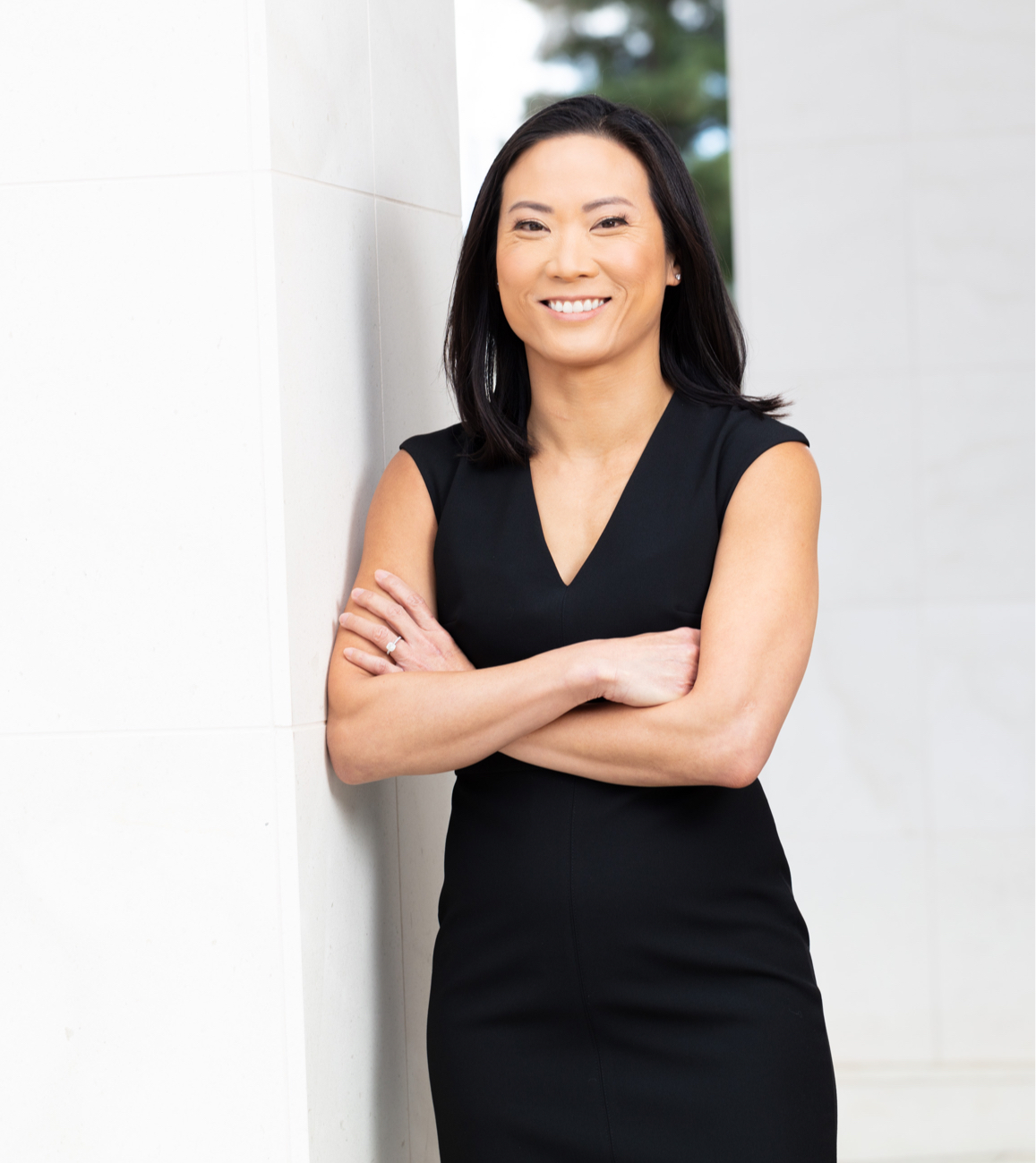 Dr. Kristina
Tansavatdi's
Skin Care Line
Dr. Tansavatdi understands the importance of purity, potency, and stability when it comes to skin care products. This is why she provides high-quality medical skin care products to help patients improve and maintain healthy, beautiful skin. She has formulated this generation of skin care products to improve skin tone and texture, as well as diminish fine lines and pigmentation. Each product meets strict pharmaceutical standards, ensuring a safe product that delivers consistent results. The concentrations and dosing of all active ingredients are based on solid scientific research.
The Youthful Skin Pyramid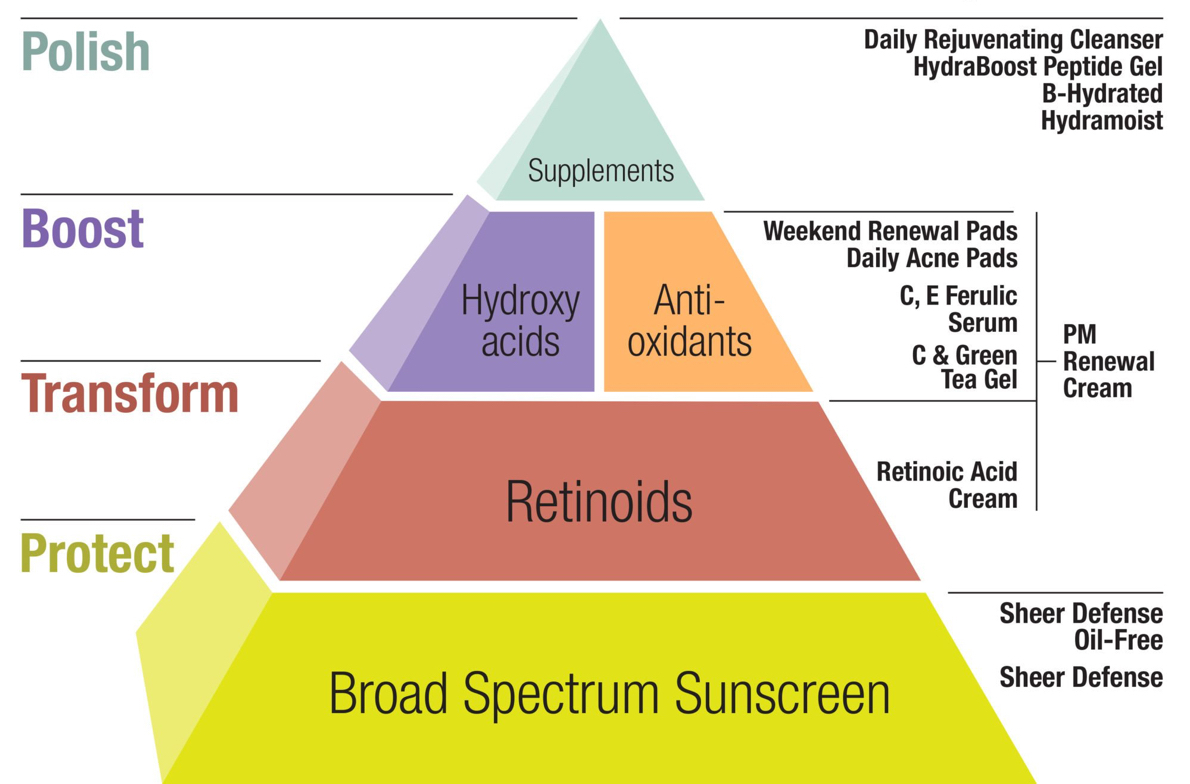 Step 1: Protect
Broad Spectrum Suncscreen
SHEER DEFENSE SUNSCREEN SPF 40
Protect your skin and prevent sun damage and aging with Dr. Tansavatdi's Sheer Defense Sunscreen. This broad spectrum sunscreen contains an anhydrous silicone elastomer that leaves your skin with a non-sticky, anti-shine appearance. Its lightly tinted formula using melanin makes it excellent as a colored moisturizer to blend well into all skin tones. It contains titanium dioxide, zinc oxide, and vitamin C and E to help scavenger DNA damage caused by harmful UV Rays. It is 100% fragrance- and preservative-free. Active Ingredients: 10% titanium dioxide, 4% zinc oxide
Step 2: Transform
Retinoids
RETINOIC ACID CREAM
Why should you use a retinoid cream? Dr. Tansavatdi recommends incorporating this custom-formulated, medical-grade Retinoic Acid Cream into your nightly skin care routine to unclog pores, boost collagen, stimulate skin cell turnover, and even out discoloration while smoothing the skin's texture. When applied as directed, results can be seen in as little as four weeks
Step 3: Treat
DAILY ACNE PADS
Unclog pores and deep clean acne-prone skin with Dr. Tansavatdi's Daily Acne Pads. These textured pads are great for deep cleansing and polishing skin for a cleaner complexion. Each pad contains salicylic acid combined with a gentle formula of TCA and allantoin to effectively clear up existing pimples while eliminating future breakouts and blackheads. Key Ingredients: 0.5% salicylic acid, 0.5% trichloroacetic acid, oligopeptide-10, allantoin, and rice bran extract.
WEEKEND RENEWAL PADS
Baby your skin with this at-home deep exfoliation treatment. Each one of Dr. Tansavatdi's Weekend Renewal Pads contains a high-potency combination of glycolic, lactic, and salicylic acid. When used once a week, skin texture and tone will be greatly improved, and pores will be noticeably smaller. Key Ingredients: glycolic acid, lactic acid, salicylic acid, 5% azeloyl trichloroacetamide.
Step 4: Boost
Hydroxyacids / Antioxidants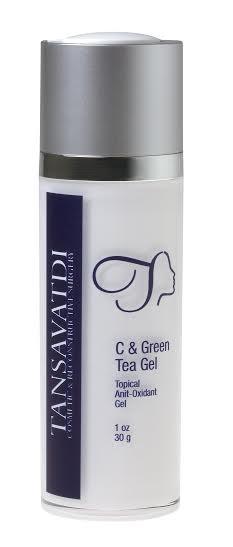 C & GREEN TEA GEL
Prevent and treat sun damage and age spots with Dr. Tansavatdi's C & Green Tea Gel. Using this potent blend of vitamin C, vitamin E, and green tea extract will make your skin brighter and clearer within weeks. Its non-acid formula makes it safe for individuals with extremely sensitive and dry skin due to chemical peels, microdermabrasion, and laser or light treatments. Key Ingredients: tetrahexyldecyl ascorbate (vitamin C), d-stereoisomer (vitamin E acetate), green tea extract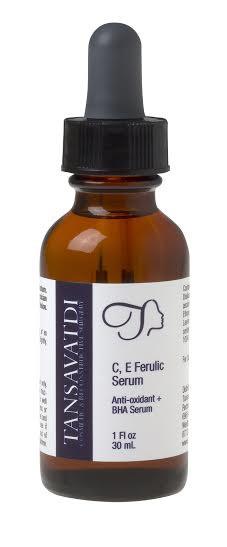 C, E FERULIC SERUM
Reverse the appearance of sun damage, age spots, and uneven pigmentation while stimulating collagen production with Dr. Tansavatdi's C, E Ferulic Serum for firmer, tighter skin. This perfect blend of antioxidants and beta hydroxy acids will not only lighten existing sun damage, but will gently promote healthy skin turnover for a brighter, healthier complexion. Key Ingredients: vitamin C, vitamin E, ferulic acid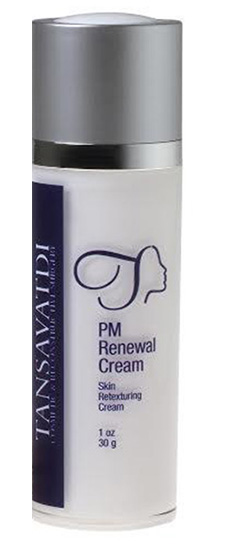 PM RENEWAL CREAM
This is Dr. Tansavatdi's favorite product! Transform and renew dull, uneven skin with Dr. Tansavatdi's PM Renewal Cream. This advanced anti-aging formula contains a powerful blend of TCA that is commonly used in effective skin peels and is combined with gentle retinoid broad-spectrum antioxidants (such as vitamins C and E and ferulic acid), as well as natural brighteners to give your skin a radiant, youthful glow. If you want a simple solution to your skin care, pick up Dr. Tansavatdi's PM Renewal today. Key Ingredients: nicotinyl trichloroacetamide (TCA), kojic acid, evodia rutaecarpa fruit extract, rumex occidentalis extract, peptides, hydroxypinacolone retinoate, allantoin
Step 5: Polish
Supplements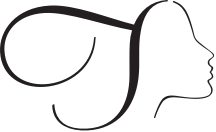 Other Skincare
Products and Brands
PCA Skin
PCA Skin® skin care products are designed to provide the most technically researched, results oriented formulations available today. Biochemically compatible with human skin, PCA Skin's products contain a unique blend of vital nutrients and alpha hydroxy acids in an aloe vera base. The entire PCA Skin family of skin care products are free of dyes, color additives, synthetic fragrances, comedogenic (pore-clogging) oils, waxes, and other ingredients that are known to cause irritation or sensitivity. PCA SKIN treatments and products are available exclusively through licensed skin health professionals, such as Dr. Tansavatdi, that have been trained and certified by PCA Skin in their use.
Skin Luma
Skin Luma is produced by Young Pharmaceuticals and designed by their founding pharmacist who has more than 30 years experience compounding ingredients for use by dermatologists. This experience has led to products that are backed by tremendous research and improved upon by continuous communication from physicians who use their products. At Tansavatdi Cosmetic & Reconstructive Surgery, we exclusively carry the Melanage Mini Peel and the Gloss Peel. Dr. Tansavatdi is excited to show you the impressive results you can expect from the Melanage Mini Peel for lightening dark spots and hyperpigmentation due to sun damage, and from the Gloss Peel for improving the overall appearance of the skin.
Dermal Microneedling with the Bellus SkinPen II
Our bodies have a natural repair and healing process that reacts to injury by producing new collagen and encouraging elasticity. Dermal microneedling initiates this injury response by creating hundreds of temporary micro channels (openings) in the skin without any thermal energy or skin removal.
In response, our bodies lay down new collagen under the skin, which resuls in tightening of the skin and smoothing of fine lines, wrinkles, and scars. We use the Bellus SkinPen II, one of the highest-quality microneedling devices available.
Environ
Created by South African plastic surgeon Dr. Des Fernandes, Environ® has been a dominant world leader in the skin care product industry for more than 25 years, and has only recently been introduced in the United States. Environ provides an innovative technique for delivering the most important product for skin care, retinoic acid, directly to the cells while providing a gentle, less irritating option than other skin care lines. This also allows the product to be used on the body for extremely effective results.

Results from the Environ Body Range collection of products
Results From The Melange Mini Peel & Gloss Peel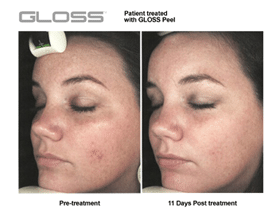 Gloss Peel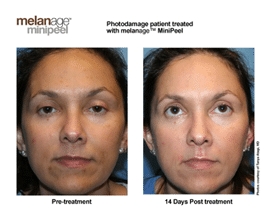 Melange Mini Peel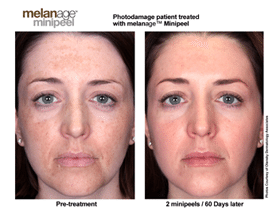 Melange Mini Peel
These products are found exclusively at select locations in the Los Angeles and Santa Barbara area. Dr. Tansavatdi is proud to carry these hard-to-find products. Through Dr. Tansavatdi's Preferred Patient Program, these products can easily be ordered through the VIP phone line and shipped directly to your door. Ask our staff to learn more about this program, or contact Tansavatdi Cosmetic & Reconstructive Surgery to learn more.