Asian Eyelid Surgery: Is Asian Blepharoplasty Right For You?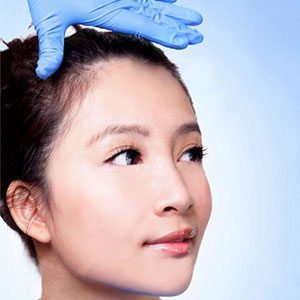 Eyelid surgery is a very common procedure known as a blepharoplasty. It is a surgical procedure that is used to improve the appearance of the eyelids by lifting loose skin on the upper and/or lower eyelids to fix drooping or sagging eyelids that tend to come with age. Blepharoplasty can give a younger appearance and a more rejuvenated facial appearance. Asian eyelid surgery, also known as a "double blepharoplasty," or "double eyelid surgery" is a specialized form of a blepharoplasty in which the eyelid is reshaped to create a crease. Keep in mind that almost 50% of Asians have this crease naturally.
In South Korea, Asian blepharoplasty is the most common procedure performed. Some believe that the goal of Asian eyelid surgery is to create a more Westernized look, but for the most part people feel that it is very similar to the goal of a normal blepharoplasty, to simply rejuvenate the appearance of the eyes to create a more youthful appearance. In a study survey conducted by the American Academy of Facial Plastic and Reconstructive Surgery (AAFPRS) on its members regarding facial plastic surgery trends, it was found that plastic surgery amongst Asian Americans is rising, and roughly 44% of the procedures being performed on them are blepharoplasties. There are many things one should know about this procedure before deciding to consult their local cosmetic surgeon, so what are they?
Are there different kinds of Asian eyelid surgery?
There are two different types of techniques used when performing Asian eyelid surgery: the suture technique, or the incisional technique. The suture technique is a quicker and less expensive method of getting a double blepharoplasty, and has a much quicker healing time. In this technique, the doctor will insert a few well-placed stitches into the eyelid to create the desired look, and the whole procedure usually takes less than an hour. The only downside to this method is that it is not a permanent option, and the patient may need to have it done again in the future. The incisional technique is far more customizable, but more expensive. In this method, the doctor will remove excess skin or fat from fuller eyelids, which makes the results of this technique permanent.
Who is a candidate for Asian eyelid surgery?
Roughly 50% of Asians are born with the look that would be created by this procedure. But the other half have different kinds of creases in their eyelids, and these are the people that are the candidates for this procedure. People with asymmetric creases (creases that are different in each eye), single eyelid (no crease), or low crease. Ideal candidates for Asian eyelid surgery. You should consult your doctor if you feel that you may be right for this procedure, as well as to find which is the best option for you.
What is the recovery like for this procedure?
Depending on which kind of double blepharoplasty technique you choose, the recovery period will differ, and will definitely differ from person to person. When using the suture technique, recovery time can take roughly two to three days, maybe even a week IF bruising were to occur. The incision technique will involve a longer recovery as there will be more swelling involved. Most people can return to work within 1 – 2 weeks. I wouldn't suggest attending any social events or taking pictures or selfies. Final results will not be visible for at least 6 months to a year. Expect to have swelling for at least two weeks. Your surgeon may choose to perform under local anesthesia or general anesthesia, and you should be seen by your doctor twice in the first week following the surgery. Blepharoplasty is one of the most popularly searched words on the internet when it comes to plastic surgery, and Asian eyelid surgery is one of the most requested procedures among Asians all over the world. This is not going away any time soon.
In fact, the procedure gains more traction as the years go by, as Asian men and women the world over seek to beautify their face just as much as the rest of the world. Dr. Kristina Tansavatdi of Tansvatdi Cosmetic and Reconstructive Surgery, located in Westlake Village, California, is rapidly becoming one of the leading doctors in the Asian community that is performing top-notch double blepharoplasties on Asian patients. For more information on this procedure, visit www.facesbydrt.com, send an email to [email protected], or call the office at (805) 715-4996 to schedule a consultation.