Lip Injections: 5 Things You Should Know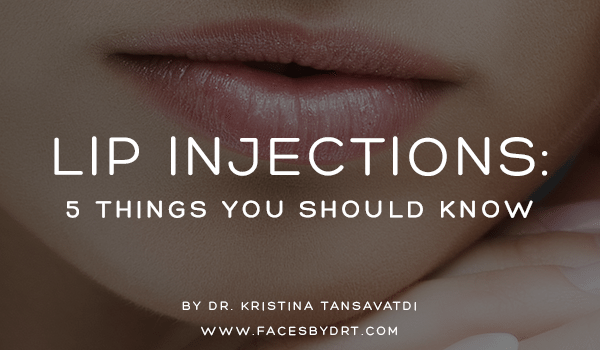 Although lip enhancement procedures can provide a more youthful smile, an unnatural injection can lead to the appearance of 'duck' lips. One thing you can do to avoid 'duck' lips is by choosing an experienced, board certified facial plastic surgeon like Dr. Kristina Tansavatdi to perform your lip enhancement procedure. Dr. Tansavatdi uses her specialized experience working on the face and neck to help her patients attain the youthful lips they desire.
FDA-approved hyaluronic acid fillers are effective at creating fuller looking lips. The hyaluronic acid fillers that Dr. Tansavatdi frequently uses to enhance the lips are Juvederm® and Restylane®. To ensure patients are comfortable during their lip injections, these fillers already contain numbing medication.
Facial plastic surgeons can use fat injections as a means to create fuller looking lips; however, the results using this form of filler tend to disappear quickly Instead, Dr. Tansavatdi prefers to use hyaluronic acid dermal fillers to create fuller, youthful looking lips.

Contact Dr. Kristina Tansavatdi
1. Lip Injections Address the Lengthened and Sagging Upper Lip
As we age, our upper lip gets longer and begins to sag. Unfortunately, injecting too much lip filler pulls the upper lip even further down hiding the upper teeth and making the smile appear less youthful. In addition, injecting too much filler in the upper lip is the number one cause of 'duck' lips. An experienced injector will know where the filler should be placed to raise the lips and create a more youthful smile.
2. Swelling is Common the Day After Your Lip Enhancement Procedure
Anytime a patient receives lip injections, there is swelling; however, there are steps you can take to eliminate the swelling quicker. The night of the lip enhancement procedure, Dr. Tansavatdi recommends that patients sleep with their head elevated on a couple of pillows. This helps reduce the amount of swelling an individual experiences.
There are other ways that you can reduce swelling, for example:
Drink plenty of water with lemon (lemon is a natural diuretic).
Avoid eating salty foods.
Put ice on the lips for 30 minutes at a time on and off throughout the day.
Do not exercise or perform any activities that can increase blood flow to the face.
About 10 days before your lip injection procedure with Dr. Tansavatdi, you need to avoid taking medications, herbal supplements and vitamins that tend to thin the blood. These include aspirin, Vitamin E and fish oil. Taking blood thinners increases the likelihood of excess bleeding and bruising during the procedure.
3. Results are Immediate
Results are visible immediately. Once the swelling subsides patients can enjoy the true benefit of their lip injections. Although there is practically no downtime associated with this procedure, some patients may experience bruising. Dr. Tansavatdi recommends having lip injections at least two weeks prior to a special event (i.e., class reunion or a wedding) to allow for adequate healing time if bruising does develop.
4. A Quick and Inexpensive Procedure
Hyaluronic Acid fillers are inexpensive and the results generally last from four to nine months depending on the filler used. Dr. Tansavatdi completes lip injection procedures within 15 to 20 minutes.
There is a misconception that if you stop getting lip injections, the lips will begin to sagor return to their original state. However, studies show that injections of hyaluronic acid increase the body's natural production of hyaluronic acid and collagen; thus, the lips may remain larger even after the filler is gone from previous injections.
5. Lip Injections Are Reversible
If you are unhappy with the result of the injection, Dr. Tansavatdi can completely reverse a hyaluronic acid lip enhancement by injecting the enzyme hyaluronidase into the lips. Hyaluronidase dissolves the hyaluronic acid within 24 hours.
Dr. Kristina Tansavatdi is a double board certified facial plastic surgeon. She offers individuals within Thousand Oaks and its surrounding communities lip injections to enhance their lips. If you are interested in learning about the non-surgical procedures Dr. Tansavatdi offers, contact her office today.
Contact Dr. Kristina Tansavatdi